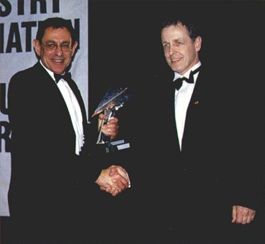 Dr Dave Baldwin completed a college education at both Marlborough Boys and Tawa Colleges before going on to get his Bachelor of Science degree at his much loved Massey University. Having then found a foot hold in the world of "brainy bastards" he went on to gain a medical degree at Otago University, Dunedin.
After completing his vocational training in General Practice he moved to Palmerston North Hospital with the idea of training as Cardiologist but, through a twist of fate, his pilot's exams coincided with the specialist exams and the pilots exams one out. He then joined the RNZAF 889 Officer Training Course in 1989 and graduated to become the Base Medical Officer at RNZAF Base Ohakea with it's A-4 Skyhawks of the famous 75 Squadron.He likes to describe this whole process in Country Bumpkin Language made so famous by the Massey Diploma of Agriculture students: "Six munths ago, I could nut spell Officar and now I are one!" In the truly action packed fast jet environment of New Zealand's Strike Force
Dr Dave began his true love ie., developing his subspecialty of aviation medicine which involves understanding the medical issues associated with the aviation environment. Three years later he left the RNZAF and began developing the Bulls Medical Centre located in Bulls - a thriving rural town located next door to the Ohakea Air Force Base.
Since this time the Manawatu region has provided him with not only a wonderful environment to bring up his family but also to form a base from which he has developed the truly unique "Bulls Flying Doctor Service" (www.flyingdoctor.co.nz). This service provides a mobile aviation medical service to the pilots located in the remote areas of Mountainous New Zealand with which he loves so much. Dr Dave received the 2003 CAA Directors Award for Safety and this has been a huge boost for the Bulls Flying Doctor Service, which aims to promote safe flying and excellence in Aviation Medicine.