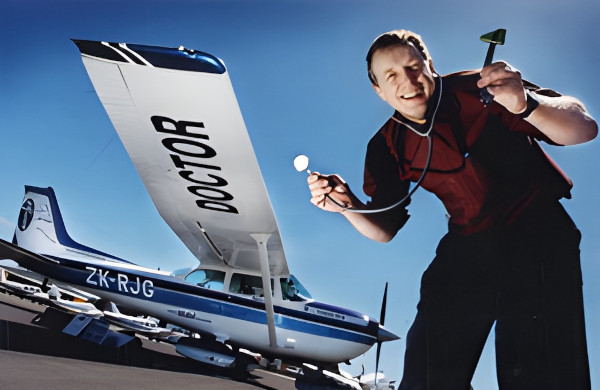 The Bulls Flying Doctor Service is World unique by providing an aviation medical service to pilots at their remote airstrips located in rural New Zealand.
Thirty years ago I developed my flying which included obtaining the commercial pilot license with multi IFR ratings, buying my first aircraft, doing commercial courier flying work and obtaining my Diploma of Aviation Medicine through Otago University. This was a very interesting and enjoyable course through Dr Rob Griffiths.
The idea of doing pilot medicals at remote South Island air strips began from the hunting interests my son and I share in south Westland. We spent a lot of time with the Saxtons' at Haast during the roaring season and with this I soon started to do the local pilots medicals. It soon dawned on me that if I was able to fly down to these remote airstrips and do the pilots medicals on the spot, there are a number of advantages for both the pilots and myself.
The advantages to the pilots include cost-savings in travel/time off, convenience and the comfort of doing a medical in familiar surroundings. The Advantages to me are simple: following the dream of combining my medical profession with flying in the most beautiful parts of the World.
I'm very proud of the purpose built aviation medical centre that Marc and I built at Palmerston North Airport. It's a dream come true and is the ideal place to examine pilots who can either drive ( boring !! ) or fly in ( yayyyy ) for their medicals
The Flying Doctor Staff.
| | |
| --- | --- |
| | |
| Rosemary and Yvette | Hasitha "Creative Manager / Security" |